Wayne Thiebaud: Prints and Works on Paper
15/09/15 – 09/10/15
We are pleased to be presenting this wonderful group of works on paper by Wayne Thiebaud. This is our second exhibition devoted to the artist and the first that we will be exhibiting in our London gallery. Widely known and admired throughout America, Thiebaud is an artist who has had surprisingly little exposure in Europe. This show will hopefully help to change that.
Born in Arizona in 1920, Thiebaud moved to California as a child and continues to live and work there today. Sitting somewhere between Pop Art and Realism, his work defies easy categorisation. The diverse group of drawings and prints presented here have been chosen and assembled to highlight how Thiebaud is repeatedly drawn to the same objects. Using a variety of mediums, he frequently returns to these deceptively simple still life subjects to explore the specific, formal concerns that have occupied him throughout his career.
These sumptuous and delightful images are so appealing, it is easy to overlook Thiebaud's incredibly skilled draughtsmanship and his relentless investigation of form, volume, and perspective. There is great purity at the core of Thiebaud's work and his images are, in fact, composed of only a few, elemental forms – spheres, ellipses, triangles, and squares. The works included here are all easily distilled into these simple shapes – Billiard Balls is essentially spheres within a triangle, Banana Splits is four ellipses, Lipstick Row is simply triangles perched above rectangles, and so on.
While his subjects are often consistent and familiar, his techniques vary widely. By moving through mediums, Thiebaud is able to continue what he has described as a 'critical interrogation' of his subjects and their formal qualities. Transposing an ice cream cone from painting to drawing to print making, he puts the forms – a sphere and a triangle – through their paces and in each case achieves something wholly different.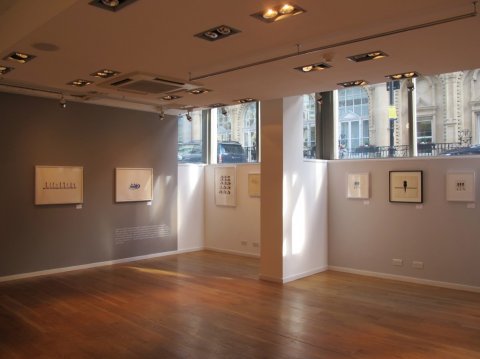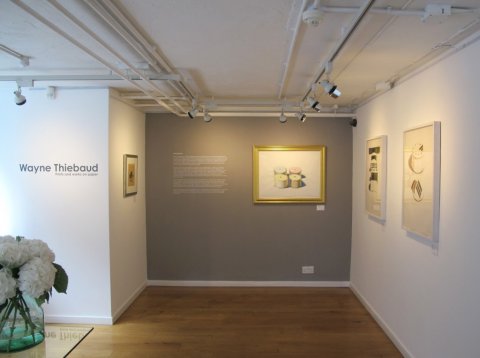 From the beginning of his career and continuing to the present day, Thiebaud has always been a committed and sophisticated print maker, actively making prints in conjunction with painting and drawing. He uses several techniques including lithography, silkscreen, etching, woodcut, and monoprints – all of which are included here. Thiebaud also occasionally returns to proof impressions, extensively hand working them and creating unique, vibrant relations to the editioned prints.
There is no hierarchy among mediums and he described each as having 'it's unique and very special beauty or effectiveness'. This show places, side-by side, single subjects done in various techniques, allowing us to consider the rich and varied outcome.
This show would not have been possible without the support and encouragement of several friends and colleagues, to whom we are extremely grateful. We also would like to thank Bo Joseph and Allan Stone Projects, who we are working closely with on this exhibition and who have shared their rich and wonderful archive of material with us.