Fred Sandback Prints: 1970 – 2000
13/10/15 – 11/11/15
We are delighted to be exhibiting this comprehensive survey of prints by the American artist Fred Sandback. Known primarily for his minimal, acrylic yarn sculptures, Sandback also made graphic work throughout his career. It is a privilege to be able to show this extensive group of his prints, as well as two editioned sculptures, and to bring this material to London, where Sandback's work has rarely been seen.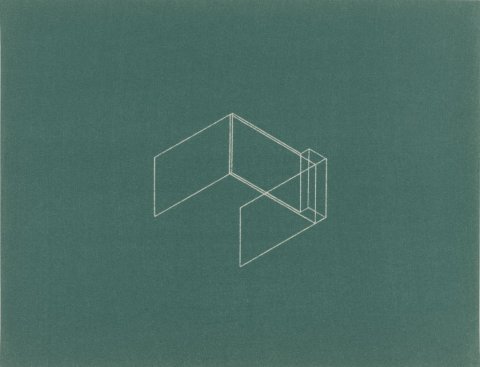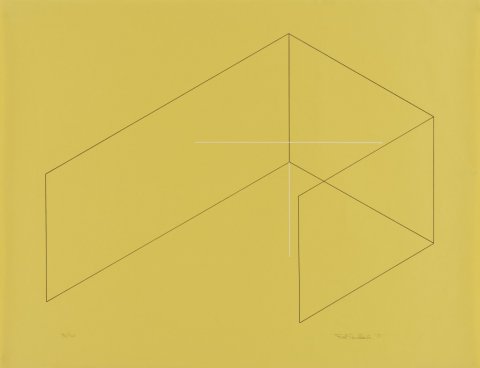 Sandback was born in 1943 in Bronxville, New York. He studied philosophy at Yale University and went on to attend the Yale School of Art, where he met Donald Judd and Robert Morris, both visiting professors at the time. He later moved to New York City, where he lived and worked until his death in 2003.
Sandback had his first solo exhibition in 1968, at Konrad Fischer in Dusseldorf, and his second show later that year at Heiner Friedrich in Munich. It was during this time that he first considered making prints. Although initially unfamiliar with printmaking, Sandback made his first print in 1970, a simple screenprint in two colours on yellow paper, and other similar works followed. After these early screenprints, Sandback soon began to engage with other print techniques. Over the next decade he moved swiftly from screenprint to lithography, linoleum cut, etching, and a technique he called 'reverse lithography'. We are very pleased to have examples of all of these techniques in this exhibition, as well as others that Sandback developed later in his career including photostat printing and monoprint. Sandback learned all of the print techniques himself and worked closely with his printers. His close association with the process is felt in the small editions and intimate character of his prints.
Although the nature of the mediums is very different, there is a constant parallel that runs between Sandback's print work and his sculpture. In the earliest prints, Sandback not only draws the lines of the sculpture itself, but the spaces that it will inhabit. As his prints develop, the articulated physical space falls away and we are left with only the lines themselves. The paper becomes the space to be inhabited and focus is shifted entirely to the character of the line. Like his sculpture, the prints are elegant and restrained, with the simple beauty one sees in all of Sandback's work.
We are very grateful to Amy Baker Sandback and the Fred Sandback Estate, who supplied the majority of the works in this exhibition and with whom we have worked closely. Also, this show would not have been possible without the help of Diane Villani and David Gray, whose insights, assistance, and constant support have been invaluable.