Ellsworth Kelly: Back to Nature
27/11/20 – 20/12/20
Online Exhibition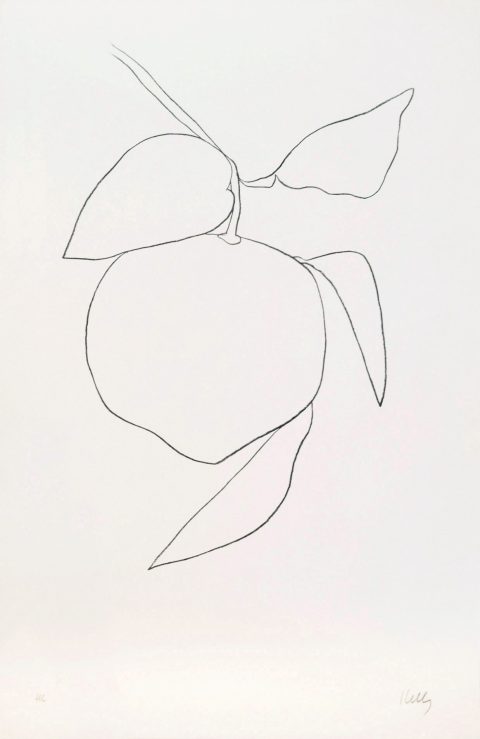 The work of the American abstract artist Ellsworth Kelly (1923 – 2015) embodies the avant-garde of post-war abstraction. Along with the work of Mark Rothko and Kenneth Noland, Kelly's work constitutes the Colour-Field counterpart to gestural abstraction. His work includes painting, sculpture as well as printmaking.
Although Kelly explored the fundamentals of pure colour, line and form, the basis of his abstraction always lay in his observations of the natural and built environment. Kelly consistently returned to nature as a source of inspiration throughout his career.  He first began making prints in 1964 and embarked on the Suite of Plant Lithographs in the same year, collaborating with Maeght Editeur in Paris. This project marked the beginning of a corpus that would grow to seventy-two prints that engaged with the subject matter of flora: Leaves (1973-76), Twelve Leaves (1978), Series of Plant and Flower Lithographs (1983-85), Oak Leaves (1992) and several other individual prints and drawings. This body of work shows a range of expression within the elegance and apparent simplicity of contour line drawing.
"I think that if you can turn off the mind and look only with the eyes, ultimately everything becomes abstract."

-Ellsworth Kelly
The abstraction seen in Kelly's work remains rooted in the natural world as one can see in the present works which come from Suite of Plant Lithographs. Kelly distills and abstracts the forms in his paintings from observations of the real world. In this way, the natural world, with its leaves, flowers and trees, are touchstones for him. Using only black lines, Kelly brings to life the essence of the subjects.