Bridget Riley Prints: 1962 – 2015
22/02/15 – 20/03/15
We are delighted to be presenting this retrospective of prints by Bridget Riley. Her work – dynamic and absolutely unmistakable – occupies a unique place in the history of Postwar Art in Britain. In many ways this exhibition offers an overview of Riley's career, as her printmaking over the last fifty years has run parallel to the developments in her painting. Riley's imagery has consistently changed and evolved, with a relentless commitment to innovation. She is still working actively today, continuing to surprise and delight.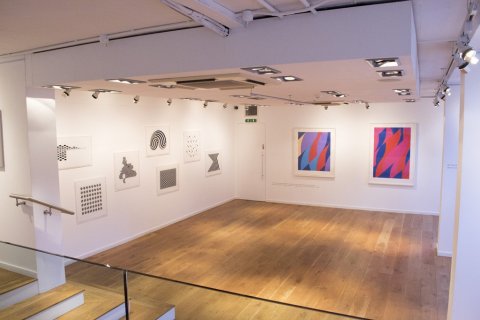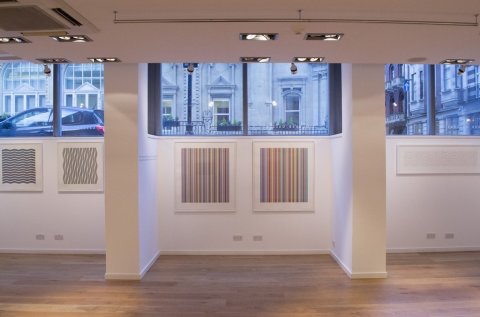 We had the privilege of being able to choose from Riley's complete catalogue of prints for this exhibition. Our aim was to include groups of works that are representative of specific moments and defining styles that punctuate her career. We also chose prints that have a meaningful dialogue with each other or illustrate the development from one period to another.
The earliest works in the show are two of Riley's black and white prints from the 1960s: her first print, Untitled (Based on Primitive Blaze) (1962) and Untitled (Based on Blaze) (1964). Together they illustrate the evolution of her Blaze paintings. Perhaps her most significant achievement in printmaking from this decade is her masterful series of prints on Plexiglas. Entitled Fragments (1965), the compositions initially came from ideas for paintings that were never executed. These rare early works typify Riley's demanding visual pursuits; we are very pleased to be exhibiting the complete set.
In the late 1960s, Riley's work progressed into greys and eventually made the radical shift to colour. We have included three pivotal series that mark this passage: Nineteen Greys (1968), Elongated Triangles (1971) and Coloured Greys (1972). They are rich examples of Riley's early experiments with how greys, coloured greys and later pure colours, relate to each other. In some cases they vibrate and shimmer, creating new colours and movement through a seemingly static, stable medium, asking us to perceive something that is not actually there.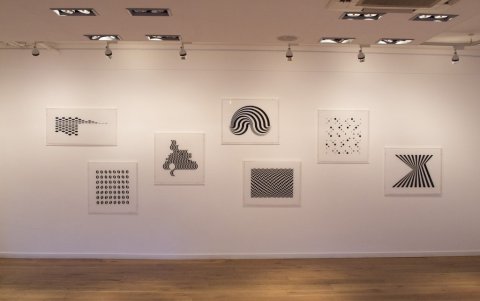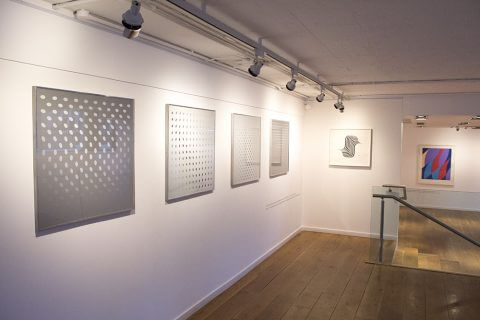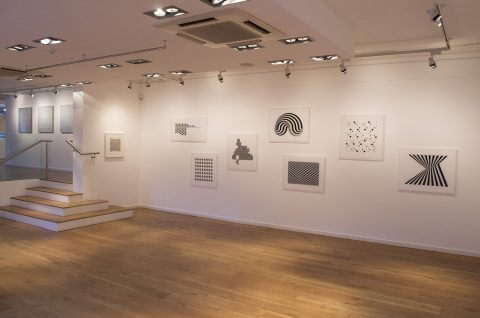 By the 1980s, Riley worked exclusively in colour. RA 2 (1981) and Silvered 2 (1981) – both related to paintings from her Egyptian stripe series – provide a meaningful insight into her use of screenprinting to expand her investigation of the relative relationships of colour. Both prints use exactly the same elements, identically coloured stripes and the same number of each, which are carefully listed at the bottom of the print. However, in the two compositions Riley combines the stripes in different sequences, creating completely opposite effects from identical structural qualities of colour.
The most recent work included is a group of five prints all entitled Arcadia, executed between 2010 and 2013 alongside a related body of wall paintings and canvas works. In the prints, the rigid forms in her earlier compositions give way to gracefully undulating curves that appear to glide across the picture plane. The subtle changes to the shapes, the colour sequence and the relationship to the ground, allows the pace and effect of this movement to vary between each of the five compositions.
It is important to recognise the role of screenprinting in this context. Initially a crude, commercial printing method, screenprinting became popular among artists in the early 1960s, who refined the technique and began to use it in a fine art context. The screenprinting process of applying dense pigment directly on to the paper allows for strong, even colour and precise delineation of form – both essential in Riley's work. Like many of her contemporaries – for instance, Richard Hamilton and Eduardo Paolozzi – Riley embraced this medium and has never strayed. Her screenprints are certainly amongst the most accomplished and technically sophisticated that have ever been made.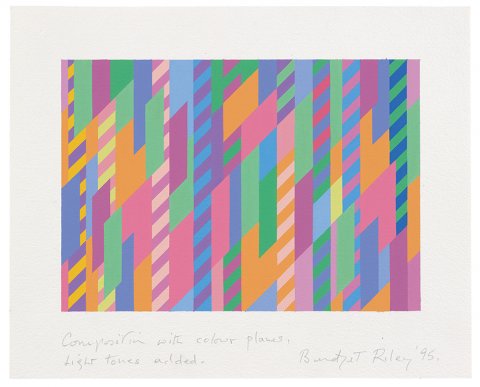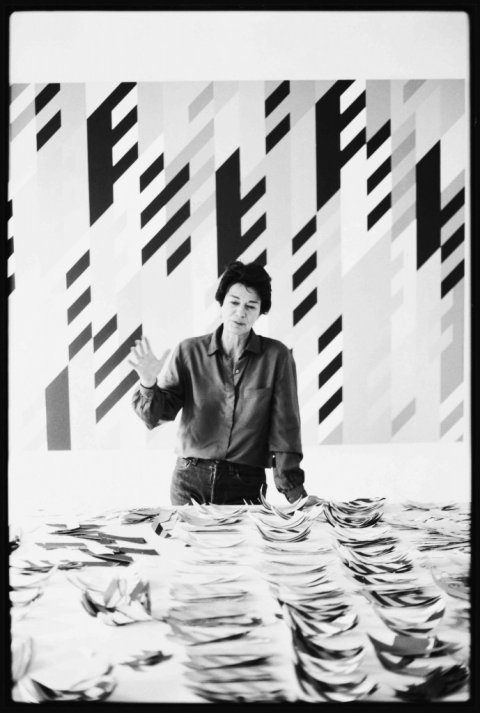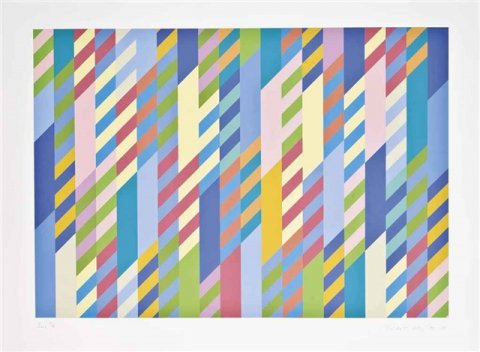 Much of Riley's work is about putting a single unit 'through its paces', as she described in an interview with Maurice de Sausmarez in 1967. In all of the works we have chosen for this exhibition, each grouping illustrates how a single unit – be it a set of colours or a specific form – can be subtly manipulated to create surprisingly different effects. We have exhibited Riley's prints for many years and this is our first comprehensive exhibition. We are extremely grateful to Bridget Riley and her studio for lending us a number of artist's proofs and to Karsten Schubert and his team who have provided us with advice, practical support and additional loans.
The show will be complemented by Sims Reed Gallery's specially curated stand at The Armory Show, New York (5-8th March 2015), which will showcase 10 prints and drawings from the Zig period.