Aaron Kasmin: Lucky Strike
22/01/16 – 05/02/16
Sims Reed Gallery opens their 2016 programme with an exhibition of bold coloured pencil drawings by artist Aaron Kasmin, inspired by Lion Match Company's mid-twentieth century matchbooks. Known for his abstract paintings and elegant coloured pencil drawings, in Lucky Strike Kasmin takes inspiration from American cultural history to create striking images reminiscent of the glamourised post-prohibition era.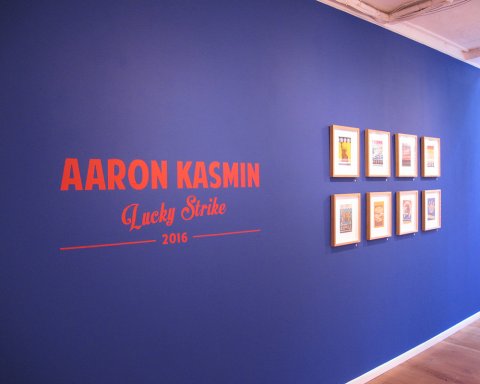 Kasmin's drawings reflect the rise of America's consumer culture. They capture the ingenuity of the mass marketing campaigns that came with industrialisation and a new economic landscape, showing how small matchbooks were used as tools to influence consumers' purchasing habits.
The series of miniature drawings features close-up impressions of the branded matches and of the delicate books themselves. Kasmin uses a simple colour palette and shadow to give the drawings a three-dimensional effect and stylishly replicate the tiny but highly intricate cultural relics. His drawings are evocative of a glitzy bygone era when attitudes and laws surrounding promoting alcohol and smoking were liberal, sexy and chic.
Aaron Kasmin comments: These feature matchbooks offer an enticing glimpse into the romantic world of America in the era of F Scott Fitzgerald, Humphrey Bogart and Raymond Chandler. They are small ephemeral vestiges of americana, representing the glamour of smoking when smoking had an altogether different image, as well as the allure of nightclubs from the prohibition onwards. The idea of printing images on individual matchsticks strikes me as incredibly original. I love the inventiveness of reproducing a three dimensional scene from a bar across all the tiny matches…