Humphrey Ocean: I've no idea either
16/02/18 – 16/03/18
To view the e-catalogue please click here.
Sims Reed Gallery is delighted to announce the first exhibition of their 2018 programme – I've no idea either. The solo exhibition by critically acclaimed British contemporary artist Humphrey Ocean RA takes place from 16 February – 16 March 2018. Though best known as a painter, Ocean discovered printmaking in recent years, in which he depicts everyday life in a witty and elegant way using his distinctive graphic style. The exhibition presents new editions as well as a selection of his early prints from 2004.
Ocean's encounter and collaboration with Maurice Payne – the master printer who worked with David Hockney during the '60s and '70s – led the artist to discover etching and aquatint in 2004. His natural flair and sensitivity to the medium is evident, even though he says it is "the least easy, most labour intensive way to produce something indelible". In choosing ordinary subject matter he re-evaluates and questions the way we see things, whilst also seeming to slow time down by imbuing each work with a moment's pause. Everyday objects range from a cassette tape and porcelain dog to a drifting boat and empty chair, which are elevated and given prominence, allowing the viewer to question why he has paused to consider and drawn our attention to these commonplace 'things'.
Highlights include the iconic Chair Series, notably featured on the cover of Sir Paul McCartney's 2007 album, Memory Almost Full. Well known for his distinctive portraits on paper, this series turns portraiture on its head by playfully alluding to human absence or presence – the object once again taking centre stage. Two new editions of this series will also be on show, Evergreen and Purple Chair, which develop past themes.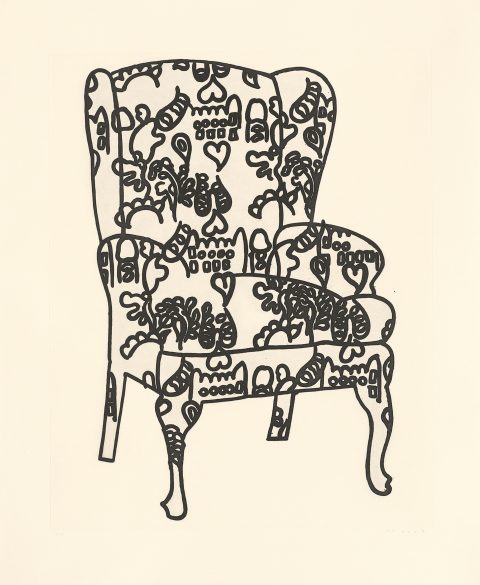 "I began print late. I worked with Maurice Payne in Long Island and through him discovered etching and, more to the point, sugar lift. The idea of drawing with needles I had always found off-putting but now I could work with soft brushes. I am told Picasso was the first to use it. Anyway we started working on images from my Dot Book, what became From This we can tell. These were relatively small plates. Very soon we worked larger and produced Check Chair, seen on the Dover to Calais ferry, and this led on to the Love Chair series. The image originated in my first Dot Book. I was sitting in the waiting room of a hospital, not on my own account but in the state of heightened alertness expecting news of a friend I began to notice the chairs in the room. Actually, they struck terror into my heart and the best thing in that case is to do something about it so I drew one. With a few changes, these chairs grew out of that."
The inspiration behind many of the editions come from Ocean's Dot Books; sketchbooks which record his musings plus anything that catches his eye. His pared down minimalist drawings are a starting point in the same way that a dot develops into a line.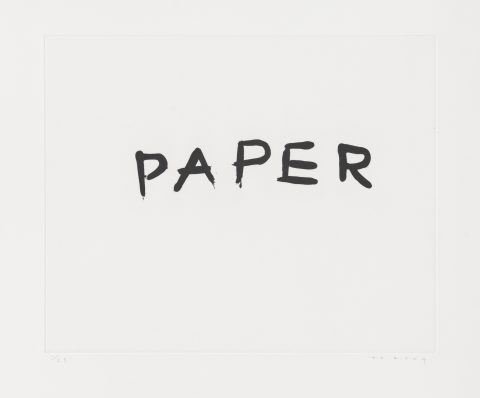 A group of new sculptures and unique works on paper complement the prints, demonstrating his engagement with different media and desire to challenge and create. Sculpture is another relatively new medium for him and "like painting, it is not quite what it seems. Magritte's painting This is Not a Pipe tells you that. It happened after seeing a model ship on a plaster sea made by a sailor, a votive offering, in a church in Corsica. For a few years I drew and painted the ship without knowing why at first, except being in a studio is a bit like being at sea. Then I saw a piece of wood like a piece of rough sea on the floor of my studio and made a balsawood boat to sit on it. And so it goes on."