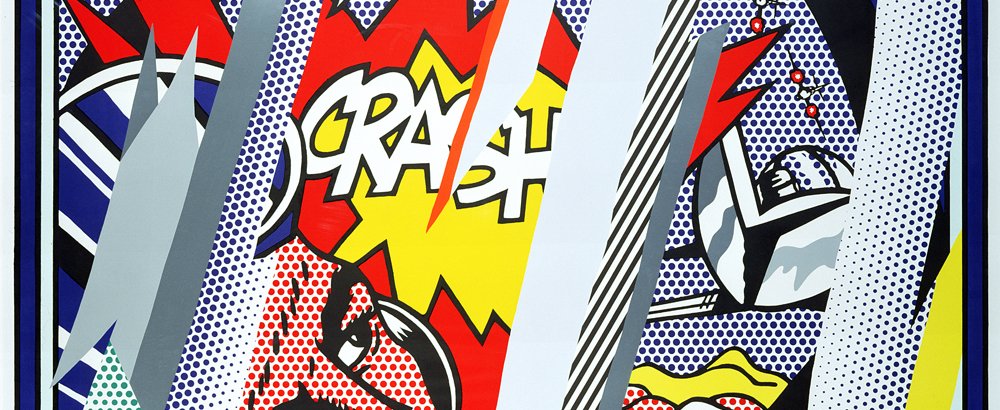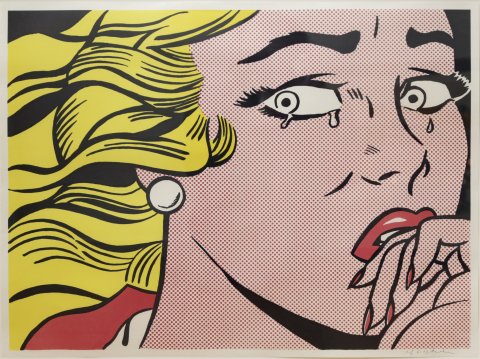 Roy Lichtenstein was a pivotal American Pop Artist best known for his paintings, lithographs and sculptures. Born in New York, he studied at the Art Students League and Ohio State College although his studies were interrupted in 1943 by wartime service.
Lichtenstein's early works during the 1960s were comments on American Abstract Expressionist paintings by artists such as Jackson Pollock but it was his later brightly coloured prints inspired by popular cartoon imagery and comic strips, incorporating figures such as Mickey Mouse and Donald Duck, which became characteristic of his oeuvre. Rather than drawing attention to the process of creating Abstract Expressionist works through impasto paint and visible brush marks, Lichtenstein imitated the effects of mechanical printing through a stencil process, thick black outlining and his striking hand-painted Benday dots.
In the 1960s Lichtenstein also created many works of dramatic scenes inspired from film and comic books depicting women in love affairs in dialogue with their husbands. The gallery has handled some of Lichtenstein's most iconic prints from these series such as Crying Girl (1964), with its bold Pop palette of red, yellow and blue. By the mid-1960s Lichtenstein was a leading recognised American Pop Artist alongside Claes Oldenburg and James Rosenquist. His later works began to quote paintings by 20th Century artists such as Picasso, Matisse and Léger but with his same signature style such as Still Life with Goldfish (1974) in the style of Matisse.
Lichtenstein's screenprints were an important part of his oeuvre as alongside artists such as Andy Warhol, they were part of the attempt by artists and publishers to provide art for a mass audience through the production of prints in large editions. Screenprinting enabled a greater yield of prints from the original screen compared to engraving or lithography and therefore works could be produced in large portfolios of around 500 such as Sandwich and Soda (1964), Red Lamps from his Interior Series and Roommates both from the 1990s.