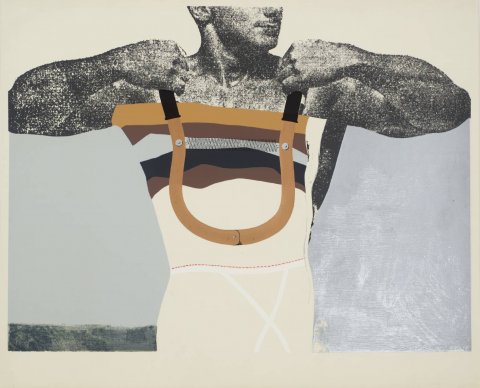 Richard Hamilton was an instrumental figure in the development of British Pop Art. His works were deeply inspired by everyday life and popular culture and engaged with politics and an interest in architecture or interior scenes. Born in London, he studied at the Royal Academy School and worked in advertising before exploring industrial design. He returned to the Royal Academy School in 1946 but was expelled for not following the instructions of the painting school.
In the 1950s he formed the Independent Group along with artists and writers at the Institute of Contemporary art in London, whose formation was crucial to the development of Pop Art in England and they staged the 1956 exhibition This is Tomorrow. The instantly recognisable collage made for this exhibition Just what is it that makes today's homes so different, so appealing? (1956) is often sited as the forerunner of British Pop Art with the inclusion of the word 'Pop'.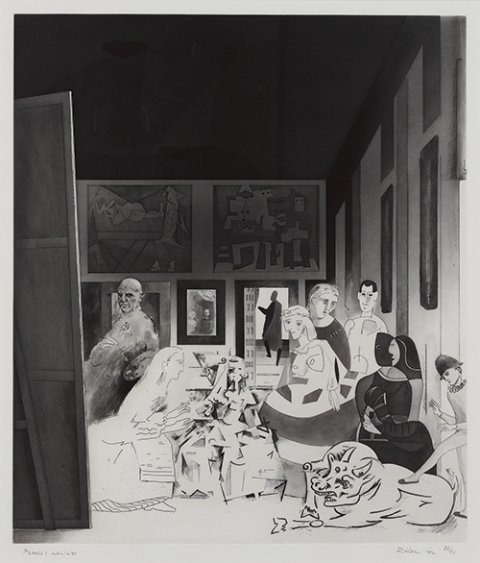 Hamilton soon defined Pop Art in 1957 as "Popular (designed for a mass audience), Transient (short‑term solution), Expendable (easily forgotten), Low cost, Mass produced, Young (aimed at youth), Witty, Sexy, Gimmicky, Glamorous and Big business". From 1963, after visiting New York, Hamilton began to experiment by fusing painting with photography in his works. From the 1980s Hamilton started to combine digital media and computer-generated works in his art.
Hamilton worked on prints throughout his career and he won the World Print Council Award in 1983. Prints paralleled his paintings and collages such as the Swingeing London (1967) series of prints, which together with his paintings were a reaction to the arrest of Mick Jagger and the art dealer Robert Fraser.
Many galleries have hosted retrospective exhibitions of Hamilton's work such as the Hanover Gallery in 1964 and Hamilton represented Great Britain at the 1993 Venice Biennale. The first full retrospective to encompass all areas of Hamilton's oeuvre was held at the Tate Gallery in 2011.