Peter Doig is a British painter and printmaker, who studied at the Wimbledon School of Art, St Martins and Chelsea School of Art. It was at Wimbledon that Doig first experimented with printmaking. Born in Scotland, he spent his childhood in Canada and Trinidad and in 2002 returned to Trinidad to live and work. Shortly after studying at Chelsea he won the Whitechapel Art Prize and in 1994 he was nominated for the Turner Prize. Recent solo exhibitions have been held at the Musée d'Art Moderne de la Ville de Paris, Tate Britain London, National Galleries of Scotland and Fondation Beyeler in Basel.
His works fuse figuration with abstract shapes and surface patterns to make the familiar appear strange and often engage with themes around man, nature and the outdoors, combining both cultures he was exposed to. Doig's works are often characterized by a loose technique with areas of shot colour; some can be read as harking back to the snow from his childhood or the warmth of the Caribbean sun. Frequently based on photography or film stills, Doig's oeuvre is filled with ambiguity and emotional charge. Scenes often capture single figures isolated within a serene tranquil setting, perhaps with undertones of dream imagery. Since the places are often unnamed, this accentuates the uncertainty and sense of urban and natural environments fusing into one.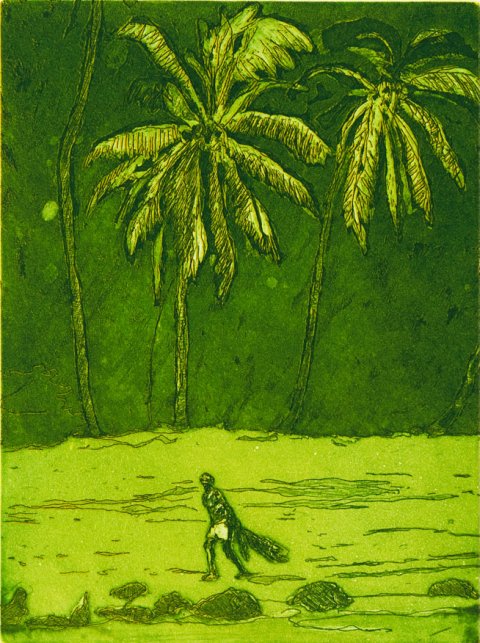 Although often admired as one of today's leading painters, Peter Doig also worked extensively as a printmaker and explored a large range of printmaking techniques such as hard and soft ground etching, drypoint, spitbite etching and aquatint. His first print portfolio 'Ten Etchings' is a series of 10 prints each made by a range of etching techniques; variations in texture and tone through aquatint, deep bite which creates dark tones, sugerlift which enabled Doig to paint marks to be printed and added collage elements through chin collé.