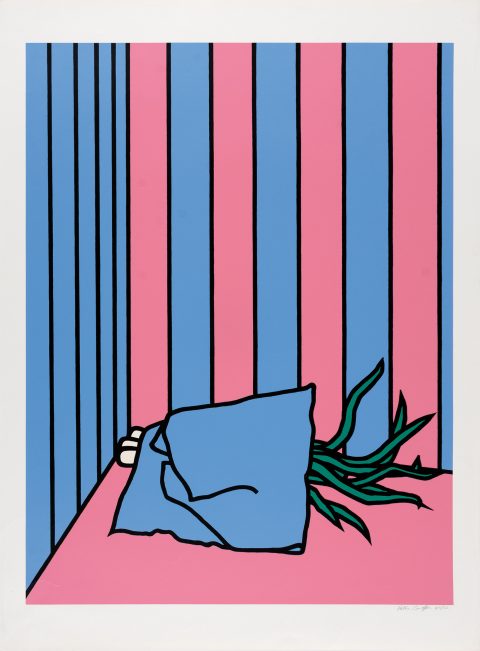 Patrick Joseph Caulfield was an English painter and printmaker known for his bold and eye catching works, which often incorporated elements of photorealism within a pared-down scene. In his hard-edged, color-blocked prints and paintings of innocuous interior scenes and domestic objects such as pots, Patrick Caulfield created a sense of the exotic from the ordinary. During a trip to Greece and Crete he was inspired by Minoan frescoes and the bright hard colours on Crete, which continued to inform his work.
"One's always been taught in art school that all relationships and colours should blend, affected by one light. But that can make for a very dull picture. Does nature blend?"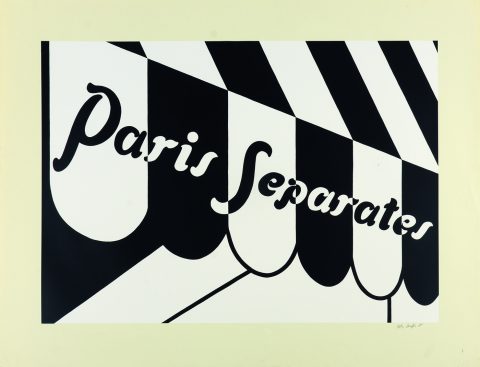 Emerging in the 1960s amid the rise of British pop artists, his contemporaries at the Royal Collage of art included David Hockney and Allen Jones, all of whom exhibited at the New Generation show in 1964 at Whitechapel Gallery. Initiated by members of the Independent Group, the exhibition brought Pop Art to the general public as well as introducing some of the artists, concepts, designers and photographers that would define the Swinging Sixties.
During this time Caulfield's interest was submerged in the flattened, authorless quality of commercial sign painting, which he adopted in his own work by eliminating any traces of brushwork. This interest in flat, anonymous imagery inspired the screen-printing practice that he pursued alongside his paintings. In both bodies of work, he employed the unnatural colours and sharp black lines characteristic of advertising to cast a curious eye on the inventions of the modern world.
"I was aiming at reducing the means by which one described things."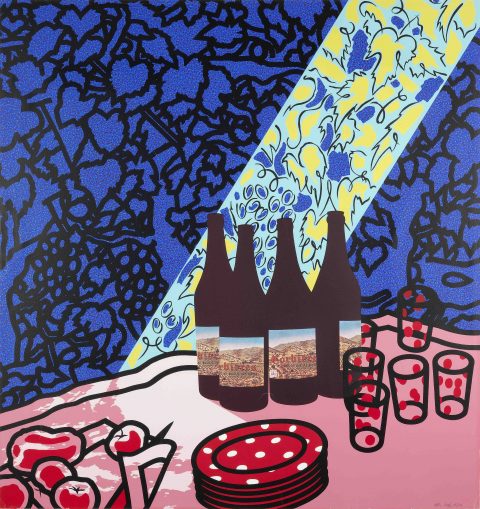 From the mid-1970s Caulfield incorporated more realistic elements into his works; with certain areas depicted with precise detail and other areas executed with looser strokes. Caulfield later returned to his earlier, more stripped and pared down style. Often portraying a few simple objects in an interior, he used flat areas of simple colour, often dominated by a single hue and surrounded by bold black outlines.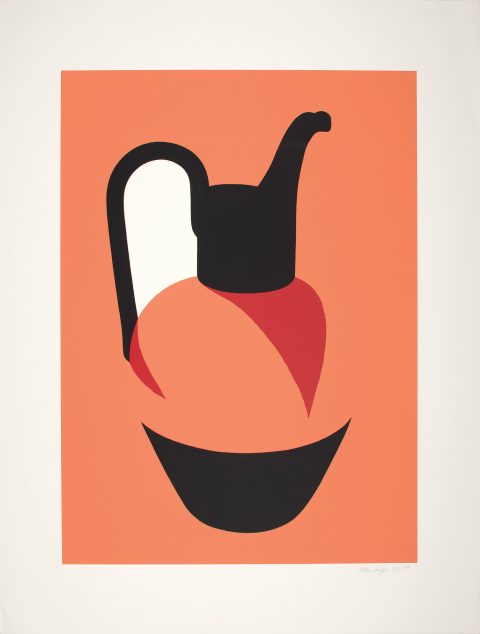 Later in his career, Caulfield worked on several commissions in addition to his painting and printmaking. In 1990 he designed a stained glass window of The Ivy restaurant and in 1984 and 1995 he designed the set designs for productions at the Royal Opera House. He had numerous exhibitions at Tate Gallery as well as The Hayward and The Royal Academy and his work is held in many important collections including The British Council, Victoria and Albert Museum, Dallas Museum of Art and Tate Gallery. Caulfield was continuously influenced by Juan Gris and Fernand Léger, and has exerted an influence on contemporary British artists such as Gary Hume and Julian Opie.