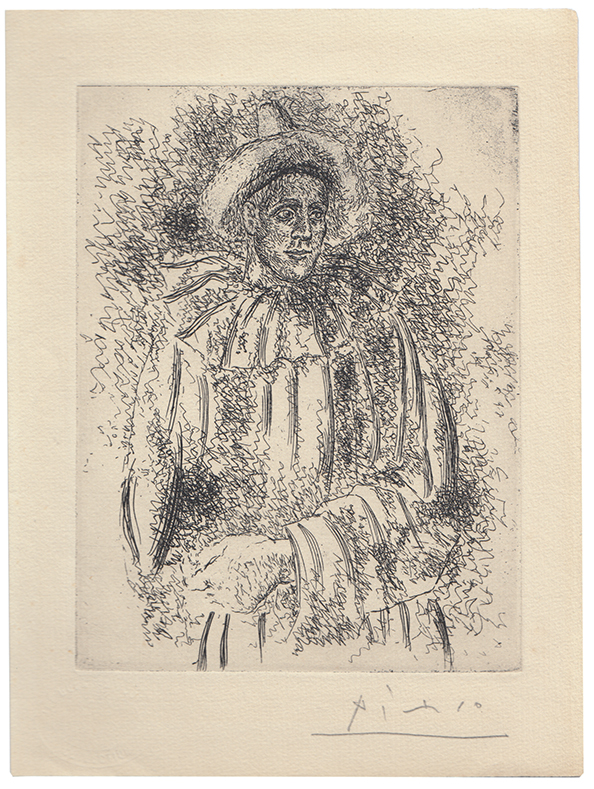 Le Phanérogame: Pierrot (Massine en Pierrot)
Etching, 1918.
Signed in pencil, from the edition of 20 to 25 that accompanied Max Jacob's Le Phanérogame in December 1918.
With wide margins (the book edition was with smaller margins).
Printed on laid paper by Les Presses Eugène Delâtre, Paris, with the Eugène Delâtre watermark.
Published by Max Jacob, Paris.
Plate: 14.8 x 11.3 cm | Sheet: 19.4 x 14.6 cm
(Bloch 33; Baer 55; Cramer 5).
This copy from the distinguished collection of Douglas Cooper, a friend of the artist and art historian (showing his collector's mark) recto.
Geiser notes only copies, his own and that of Douglas Cooper, with large margins with later signatures from the 1930s.
Enquire about this work
Enlarge / Alternate views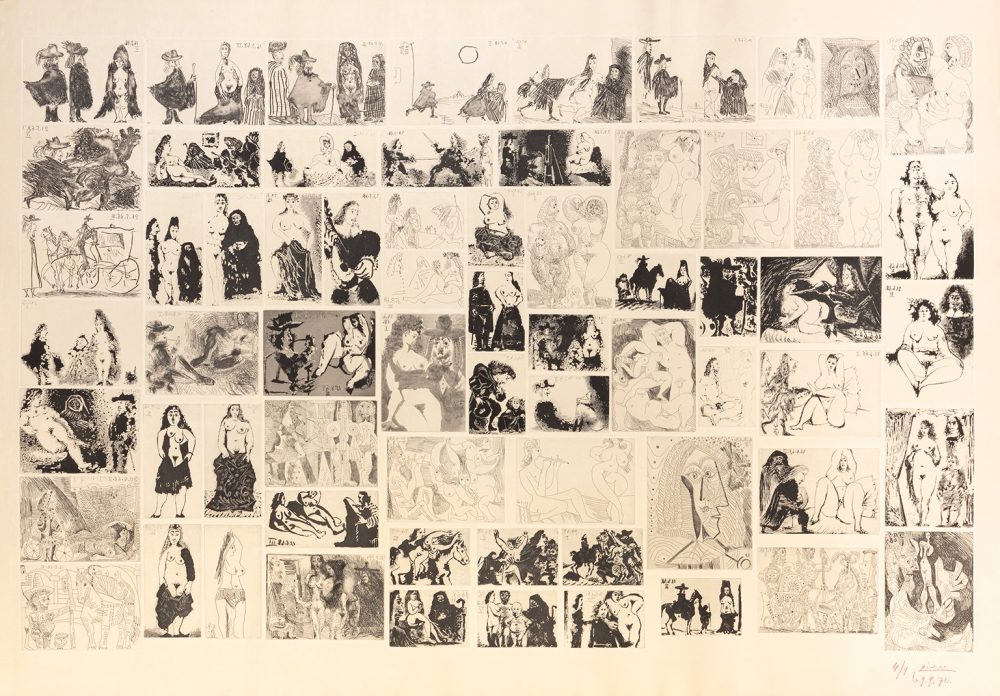 La Célestine
One of Picasso's rarest prints, the entire series of 66 etchings for La Célestine on a single large sheet. One of only nine impressions.
This impression is signed Picasso and dated Le 9.9.70 in red crayon, numbered 4/9. 
Etching and sugar-lift aquatint, printed by Editions Crommelynck on yellow tinted Rives paper. In excellent condition with deckle edge on four sides. 
Sheet size: 75 x 105 (cm); 29 ½ x 41 ¼ (inches) 
[Provenance: Given by Picasso to Paul Puaux – Director of the Festival d'Avignon from 1971-79]. 
The sixty-six etchings illustrate the tragi-comedy La Celestina by Fernando Rojas, a masterpiece of Spanish literature. It tells the amusing story of how the bachelor Calisto used the procuress Celestina to arrange an affair with Melibea, a young woman kept in seclusion by her parents. 
La Célestine: Baer 1523-1779; Cramer 149; Bloch 1507; 1529; 1540; 1541; 1558; 1559; 1563; 1564; 1573-1576; 1581-1583; 1587,1588,1592,1593,1596-1603, 1605-1607, 1616, 1617, 1635-1637, 1648-1650, 1654, 1655, 1657, 1658, 1661, 1664, 1665, 1668, -1670,1690, 1691, 1694, 1727, 1729, 1733, 1749, 1751, 1754, 1762 
Enquire about this work
Enlarge / Alternate views