Man Ray (1890–1976) was a pioneer in 20th century avant-garde art and photography and a leading figure in the Dada and Surrealist art movements in both America and in France, where he lived for many years. Born Emmanuel Radnitzky in Philadelphia in 1890, he grew up in New York, where he studied art at the National Academy of Design and the Ferrer School. Early in his career he worked as a commercial artist for a map publisher, but gave it up to practice his own art. Man Ray was introduced to the European avant-garde at the 1913 Armory Show, the first exhibition in the United States to feature modern art. This exhibition inspired him to reject traditional styles and to experiment with new forms and new methods of creating art. Through his encounter with Alfred Stieglitz in 1913 and his New York gallery, he became acquainted with many of the most innovative artists of the time, including the founder of the New York Dada movement, Marcel Duchamp, who would become a lifelong friend and influence.
"I paint what cannot be photographed, that which comes from the imagination or from dreams, or from an unconscious drive."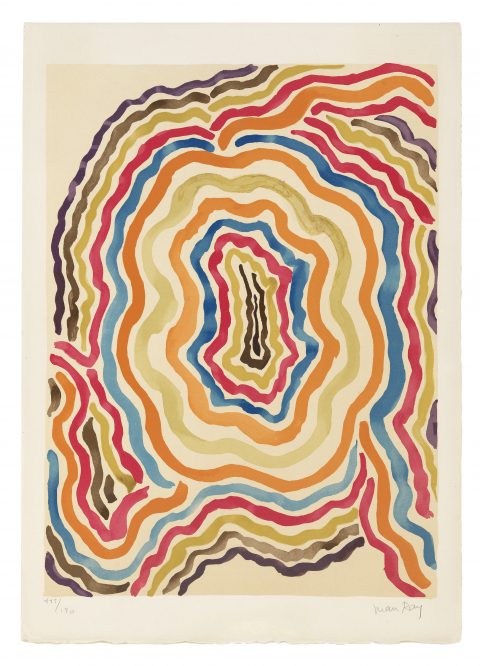 In 1917 he abandoned painting and collage in favour of photography and opened his own portrait studio. During this time he began to gain a reputation within the New York avant-garde art community for his advanced intellect and defiance of artistic convention, and, with Duchamp, he founded Société Anonyme, an organisation dedicated to promoting international avant-garde art and artists in the United States. Man Ray moved to Paris in 1921 to gain exposure to the newest European art movements, and while there he was an active and influential member of the Dada and Surrealist art movements.
Man Ray's photographic works are considered his most profound achievement, particularly his portraits, fashion photographs, and technical experiments with the medium, such as 'rayographs' (creating photographic images by placing objects directly on photosensitive paper) and 'solarization' (which is reverse imaging; creating a photographic image from a negative form), which were much celebrated by the Surrealists. During the 1920s and 1930s, he was also a popular fashion photographer, featured in publications such as Harper's Bazaar, Vu, and Vogue. His photographic innovations influenced other avant-garde photographers, such as André Kertesz and Brassai, and apprentices Berenice Abbott and Lee Miller.
"Nature does not create works of art. It is we, and the faculty of interpretation peculiar to the human mind, that see art."
During World War II, Man Ray relocated to Hollywood, California, where he continued to develop his art, focusing on painting, filmmaking, and constructing objects within the Dada and Surrealist canon. He returned to Paris in 1951 and remained there until his death in 1976. During the later years of his career, he continued to flourish as an artist, and his work was exhibited widely, for example, at the Bibliothéque Nationale in Paris (1962), the Los Angeles County Museum (1966), and the Venice Photography Biennale, where he won the Gold Medal in 1961.