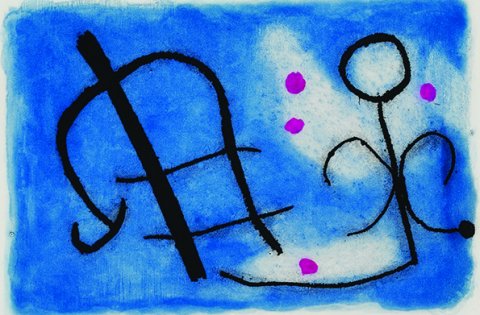 Joan Miró was a prominent Spanish painter, sculptor and printmaker, whose Surrealist semi abstract shapes comprising of curvilinear lines and amoebic forms and dream-like imagery are instantly recognisable. Born in Barcelona, he studied at the Barcelona Business College under the strict instructions of his parents, at the same time as the School of Industrial and Fine Arts. He then went to the Francesc Gali's School of Art and took further drawing classes. His works during this period are characterised by bright shot colour with inspired elements from Catalan folk culture. Following his first solo show in 1918, Miró moved to Paris in 1920 and lived between France and Spain until the outbreak of the Spanish Civil War in 1936. Exposed to Dada and Surrealist circles in Paris, his work was included in the Salon d'Automne in 1923 and the first Surrealist show in 1925 and it was during this time he came to establish his own original style. It was also during the artistic fervour of 1920's Paris that Miró first experimented with printmaking, which he was to devote more serious time to during the war.
Miró continuously experimented with differing printmaking techniques throughout his career such as drypoint, etching and aquatint and one can trace a development in his imagery from the delicate wiry lines in his more figurative earlier works to the much more abstracted simplified and stylised forms of his later works. Miró was a key practitioner of the Surrealist idea of 'automatism'- inspiration directly from the unconscious, which the artist would be impelled to transfer to paper. Miró would often replicate forms, which came to mind in a notebook and later use them to establish compositions for his prints, inspiring him to produce further forms.
In Miró's Série Noire et Rouge (1938) spiralling organic shaped forms dominate the composition, intertwining and winding around the print, they leave no space for the eye to rest. The sharp juxtaposition of red ink overlaid by overlapping black graphic work accentuates the striking composition. The shapes can be attributed to figures with large heads, sun like motifs and spidery forms, stars and dots and due to the ambiguity the composition invites close inspection.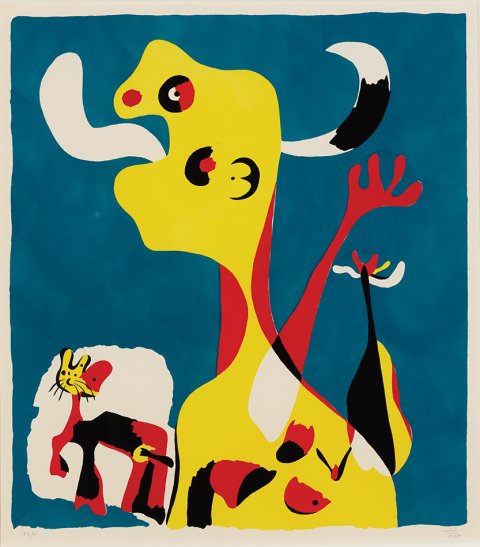 In Trace sur la Paroi V (1967) the composition is dominated by two forms with thick black outlining and areas of bright primary colours scattered around the paper. These thick lines are contrasted against thinner delicate graphic marks and set against a grey, white background. The work could perhaps evoke the cosmos through the inclusion of swirling lines and more ambiguous poetic forms. Biomorphic and curvilinear shapes are also evident in Femme et chien devant la lune (1935). In this work the abstracted and stylised figures of a woman and dog appear to respond in fear and terror; the woman's tongue wailing out of her mouth and her arms up in the air, perhaps as a response to the recent outbreak of the Spanish Civil War. The screaming juxtaposition's of blue, red and yellow hues alongside black and white further adds to the striking nature of the print.
Miró gained worldwide recognition with his first large retrospective in 1941 at the Museum of Modern Art, New York and soon after he won the Venice Biennale's Grand Prize for Graphic Work in 1954. He continued to win further awards including the Carnegie International Grand Prize for Painting in 1967, honorary doctorates from Harvard in 1968 and the University of Barcelona in 1979 and Spain's Gold Medal for Fine Arts in 1980.