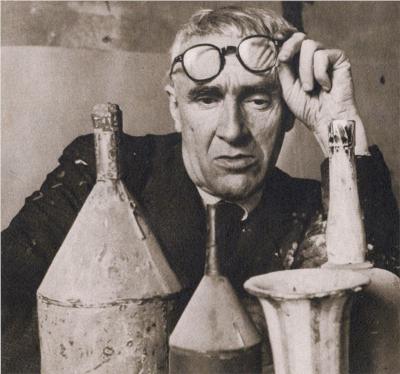 Giorgio Morandi (1890-1964) was an Italian painter and printmaker who specialised in still life. His work is known for its tonal subtlety in depicting apparently simple, everyday subjects, such as vases, bottles, bowls, flowers and landscapes.
He was born in Bologna and lived his whole life there. From 1907 to 1913 he studied at the Accademia di Belle Arti di Bologna. At the Academy, which based its traditions on 14th century painting, Morandi taught himself to etch by studying books on Rembrandt. Despite living in Italy his whole life, he was influenced by the works of Cézanne, Derain and Picasso. In 1910 he visited Florence, where the works of artists such as Giotto, Masaccio, Piero Della Francesca and Paolo Uccello made a profound impression on him. He had a brief digression into a Futurist style in 1914. In that same year, Morandi was appointed instructor of drawing for elementary schools in Bologna – a post held until 1929.
Everything is a mystery, ourselves, and all things both simple and humble.
In 1915, he joined the army but suffered a breakdown and was indefinitely discharged. During the war, Morandi's still life works became more reduced in their compositional elements and purer in form, revealing his admiration for both Cézanne and Rousseau. The Metaphysical Painting (Pittura Metafiscia) phrase in Morandi's work lasted from 1918-22. This was to be his last major stylistic shift; thereafter, he focused increasingly on establishing the direction his art was to take for the rest of this life. From 1928 Morandi participated in some of the Venice Biennale exhibitions and in the Quadriennale in Rome. From 1930 to 1956, Morandi was a professor of etching at Accademia di Belle Arti. The 1948 Venice Biennale awarded him first prize for painting. He visited Paris for the first time in 1956, and in 1957 he won the grand prize in Sao Paolo Biennal.
Nothing is more abstract than reality.
The Museo Morandi was founded in the artist's hometown of Bologna in 1993. His work is internationally recognised. A retrospective of his work was held at the Metropolitan Museum of Art, New York, in 2008. In 2013, an exhibition of his work alongside contemporary artist Luc Tuymans took place at the Centre for Fine Arts in Brussels, Belgium. In 2010, his work was shown at the Museo Fortuny, Venice. In New York, there have been exhibitions at the Center for Italian Modern (2016) and David Zwirner Gallery (2015).