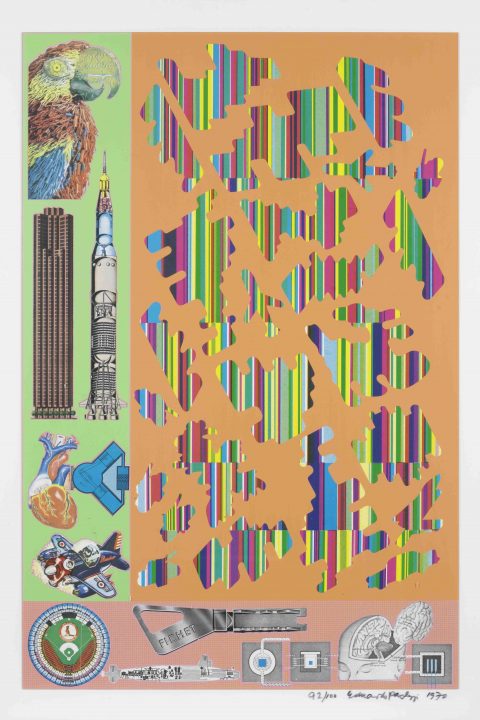 Eduardo Paolozzi (1924-2005) was a prominent British sculptor, printmaker and filmmaker. He studied at Edinburgh College of Art, St Martin's School of Fine Art and the Slade School of Art. He then moved to Paris in the 1940's where he was heavily influenced by Surrealist and Dada ideas and engaged within artistic circles alongside Alberto Giacometti and Jean Dubuffet. In 1952 Paolozzi founded the Independent Group and delivered a famous lecture Bunk at the ICA, which is often seen as one of the founding moments of Pop Art in Britain. Prevalent themes in Paolozzi's work include the fusion of the man with machinery in reaction to post-war society and modernism.
During the 1960s Paolozzi had gained the reputation as a leading British Pop Artist. He began to collect machine parts from engineering shops and magazine catalogues with which he constructed sculptures and used the parts as inspiration for his prints and paintings. Throughout the 1960s and 1970's Paolozzi produced many striking screen-prints often featuring the curved, geometric and linear mechanic forms of his sculptures and paintings but articulated with bright anti naturalistic colours, which increasingly became more abstracted. This can be seen in his 1974-6 print series 'Calcium Light Night' each individually titled and dedicated to the life and work of Charles Ives. The screen-prints are filled with the same visual imagery of shapes and patterns alluding to the inside workings of machinery but also inspired by the abstracted appearance of organ music and articulated with an array of different hues and tones. Fragmentation, the human form and themes of mass production and technology often featured in his works across different media. Furthermore, screen-printing and its associations with mass produced commercial culture and advertising linked to the subject matter he was portraying.
Paolozzi's works are held in many prominent museums and galleries in Britain and abroad including the Tate Gallery, the National Portrait Gallery, the National Gallery of Modern Art in Edinburgh and the Peggy Guggenheim Collection in Venice.