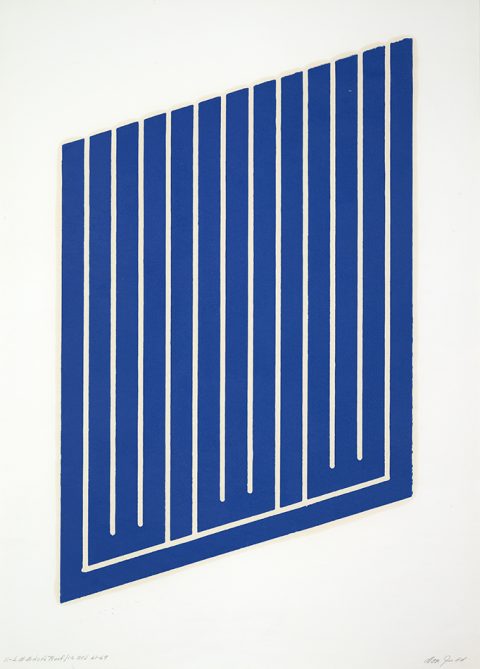 Donald Judd (1928 – 1994) was a significant and instrumental figure in minimalist art due to his belief that a work could have great presence through the primacy of colour, form, material and space without recourse to deep philosophical meaning, describing his work as "the simple expression of complex thought". Born in Missouri he studied at the Art Students League in New York, the College of William and Mary in Williamsburg and then studied philosophy and history of art at Columbia University. Although best known for his wood, metal or perspex assemblages, he also created paintings, relief works and prints, which explored the relationship between artwork, spectator and the environment in which they were placed. He also wrote on art criticism and theory.
The concept of seriality underpinned the majority of his oeuvre. His sculptures often consisted of simple forms such as boxes made of differing, often industrial, material placed directly on the floor within the galley space. The unit or box was often repeated, either on the floor or vertically on the wall, to create interplay between solid and void. Seriality was also central to his prints and Judd first experimented with printmaking techniques in 1951 including woodcut, etching and aquatint processes. From 1961-3 he completed a series of woodcuts of parallelograms (Untitled series) each printed in a single striking colour such as cadmium red or cerulean blue. These prints also engage with similar ideas as his sculptures with variations on a single theme and when seen next to each other the prints form part of a progression or rhythm. It is interesting to note that Judd often displayed the woodblock from which the print was created as a work in its own right, either before or after printing.
Judd continued to engage with printing throughout his career and produced over 300 editions. His work has been the subject of many international exhibitions including a retrospective at the Tate Modern London in 2004, a German travelling exhibition in 2002-3, and an exhibition at the Musee d'Art Moderne in Nice in 2000.