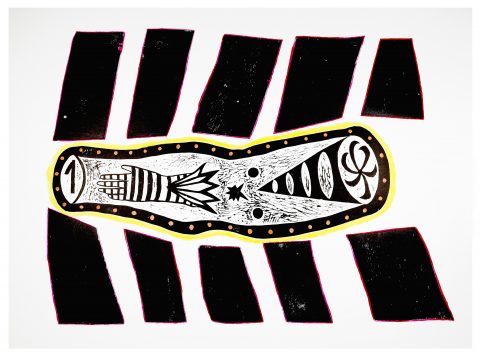 Declan Jenkin's current online exhibition Cinema of lava, cinema of mercury can be viewed here until 13th December.
Jenkins (b.1984) lives and works in London, having completed his postgraduate diploma in Fine Art at the Royal Academy Schools in 2015. He produces large-scale woodcut prints that explore the consciousness of being an artist, creating expressive carvings and hand-made prints that hover between writing and diagram.
Over the last few years, he has made work across a plethora of media including performance, poetry, video, installation, and sculpture. This dynamic multi-media approach resulted in his collaborative performance with India Mackie at the RA Summer Exhibition in 2017, Cantilever Kiss. Harnessed to steel A-frames, the pair suspended their bodies in taut plank positions and touched lips in an airborne kiss; featured on BBC Arts, the Financial Times and the Royal Academy of Arts Magazine. Infinite Gun, was also selected for the RA Summer Exhibition in the same year.
Film showing highlights of our preview evening of Declan Jenkins' I sing of armoires.. on 5th September 2017 at Sims Reed Gallery, including an interview with the artist: