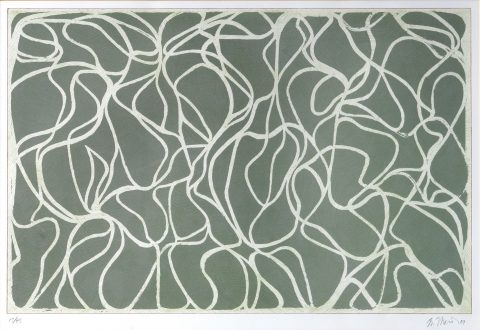 Brice Marden (b. 1938) continuously refines and extends the traditions of lyrical abstraction. Experimenting with self-imposed rules, limits, and processes, and drawing inspiration from his extensive travels, Marden brings together the diagrammatic formulations of Minimalism, the immediacy of Abstract Expressionism, and the intuitive gesture of calligraphy in his exploration of gesture, line, and colour.
In 1963 Marden received an MFA from Yale University's School of Art and Architecture, where his teachers included the painters Alex Katz and Jon Schueler. It was at Yale that Marden developed the formal strategies that characterised his paintings of the following decades: a preoccupation with rectangular formats and the repeated use of a muted, extremely individualized palette. He has described his early works as highly emotional and subjective, despite their apparent lack of referentiality.
In the summer of 1963, Marden moved to New York. He worked as a guard in 1963 and 1964 at the Jewish Museum, where he came into contact with the work of Jasper Johns, an artist whom he studied in depth and whose work furthered his interest in gridded compositions.
A work of art is a renewable source of energy.
Marden made his first monochromatic single-panel painting in the winter of 1964. It was during this time that his first solo exhibition was presented at the Wilcox Gallery, Swarthmore College, Swarthmore, Pennsylvania. Marden spent the spring and summer of 1964 in Paris, where he was inspired by the work of Alberto Giacometti. His first solo show in New York was held at the Bykert Gallery in 1966, and in the fall of that year, he became the general assistant to Robert Rauschenberg. In 1968, he began constructing his paintings with multiple panels. From 1969 to 1974, he was a painting instructor at the School of Visual Arts in New York.
In 1972, his work was showcased at Documenta 5 in Kassel, and he was honored with a retrospective at the Solomon R. Guggenheim Museum, New York, in 1975. A show of drawings made between 1964 and 1974 traveled in 1974 to the Contemporary Arts Museum, Houston; the Fort Worth Art Museum; and the Minneapolis Institute of Arts. In 1977, Marden traveled to Rome and Pompeii, where he strengthened his interest in Roman and Greek art and architecture, which would influence his work of the late 1970s and early 1980s.
In the mid-1980s, Marden turned away from Minimalism toward gestural abstraction. Around this time, he traveled to Thailand, where he became interested in Far Eastern calligraphy and the art of the brush stroke. Marden's recent large-scale paintings continue to employ "glyphs" inspired by Asian characters. During the 1990s, Marden continued to exhibit regularly in New York. He was the subject of two major travelling shows, Brice Marden—Cold Mountain, at the Dia Center for the Arts, New York (1991–92); Walker Art Center, Minneapolis (1992); Menil Collection, Houston (1992); Museo Nacional Centro de Arte Reina Sofía, Madrid (1993); Kunstmuseum, Bonn (1993); and Work books 1964–1995, which traveled in 1997–98 to the Staatliche Graphische Sammlung, Munich; Kunstmuseum Winterthur, Switzerland; Wexner Center for the Arts, Columbus, Ohio; and the Fogg Art Museum, Harvard University, Cambridge, Massachusetts. In 2006, the Museum of Modern Art in New York organized a major retrospective of his paintings and drawings from 2006-07, which later travelled to the San Francisco Museum of Art (2007) and the Hamburger Bahnhof in Berlin (2007). He has had exhibitions at the Gagosian Gallery, most recently in 2019 in London, Paris and New York in 2019. Marden lives and works in New York.
Painters are amongst the priests – worker priests of the cult of man – searching to understand but never know.