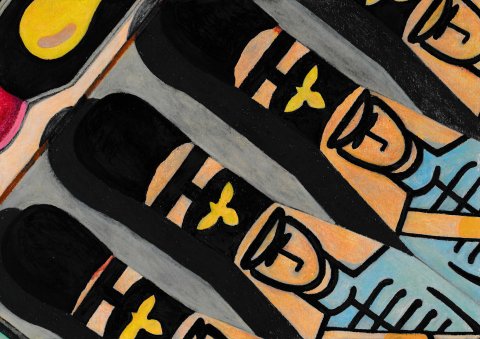 Aaron Kasmin is a British contemporary artist based in London.  He studied at the Chelsea School of Art in London and has exhibited in New York, Paris and London. He works with coloured pencil on paper, watercolour and oil paint.
Inspired by mid-twentieth century original matchbooks, Kasmin brings new life to these ephemeral objects with his bold coloured pencil drawings. Deriving from his penchant for America's chic post-war prohibition era, these miniature drawings reflect the rise of America's consumer culture.
Each highly evocative work reproduces a three-dimensional scene or object, transporting the viewer back in time to a liberal & glamorous bygone era.  As Kasmin commented:
'These works offer an enticing glimpse into the romantic world of America in the era of F Scott Fitzgerald & Humphrey Bogart. They are small ephemeral vestiges of Americana'.