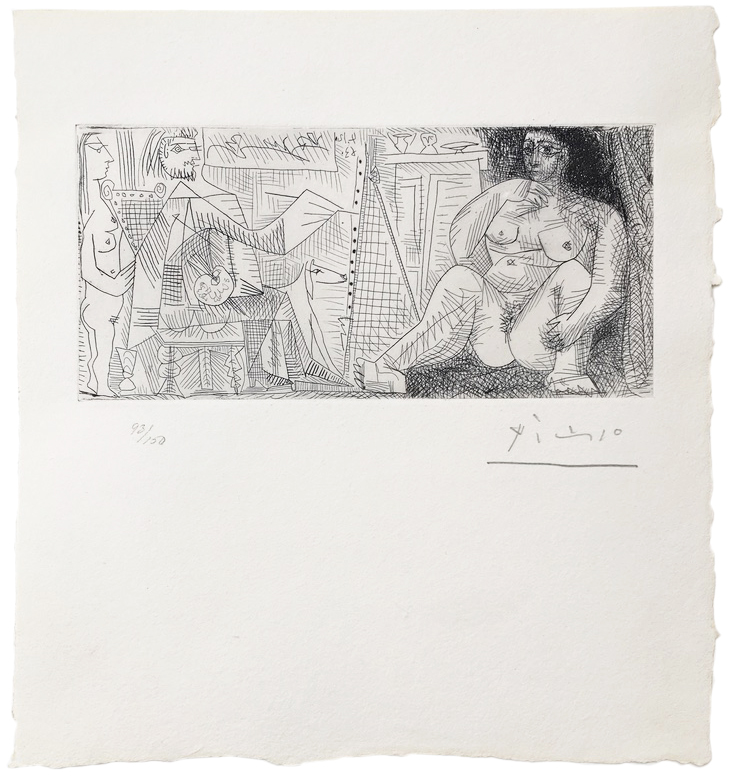 Dans L'Atelier: Peintre, Modèle et Spectatrice
Etching, 1963.
Signed in pencil, numbered from the edition of 150.
Printed in 1965 on Richard de Bas wove paper.
Published by Editions Cercle d'Art, Paris.
Produced for the deluxe edition of the book, Le Peintre et Son Modèle, which accompanies this work.
(Bloch 1139; Baer 1136).
The writer, Hélène Parmelin, and her husband, the painter Edouard Pignon, both militant communists, had met Picasso after the war. In 1952 Picasso invited the couple to come to Vallauris and live in a part of the old perfume factory where he did his pottery work. Hélène Parmelin published her first essay on Picasso in 1959 (Picasso sur la Place, Editions Julliard). In 1964, 1965 and 1966, Charles Feld (Cercle d'Art) published Secrets d'alcôve d'un atelier, a series of three books of which this is the second.
Enquire about this work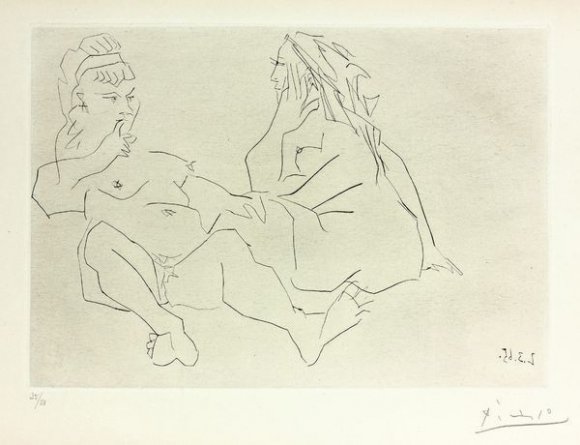 Les Amies ou Deux Femmes III
Drypoint, 1965
Signed in pencil and numbered from the edition of 50.
Printed on wove paper.
Published by Galerie Louise Leiris, Paris.
(Bloch 1202; Baer 1168)
33 x 45.5 cm
Enquire about this work