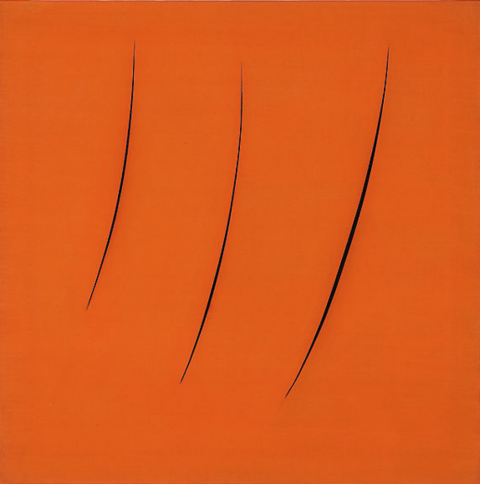 Lucio Fontana (1899 – 1968) was an Argentine-Italian painter, sculptor and theorist. He is mostly knows as the founder of Spatialism. Born to Italian parents in Argentina, Fontana began his career as a sculptor, working under his father, Luigi, before setting out on his own. In the coming years, he would divide his time between Argentina and Italy, studying under Adolfo Wildt at the Accademia di Brera and exhibiting his works at the gallery Il Milione in Milan.
"A butterfly in flight stimulates my imagination. By freeing myself from discourse, I lose myself in time and start making holes."
He returned to his native Argentina in 1940, in part to escape the political turmoil of war-ravaged Europe. In 1946 he founded the Altamira academy there, and in collaboration with several of his students, published the White Manifesto, a pamphlet setting out the goals for the creation of a 'spatialist' art. It stated that 'Matter, colour, and sound in motion are the phenomena whose simultaneous development makes up the new art'. This paved the way for what would become 'Spazialismo', the Spatialist movement.
"It's not true that I made holes in the canvas in order to destroy it, no, I made holes in order to discover, to find the cosmos of an unknown dimension."
It was after returning to Milan in 1948 when Fontana began his 'Concetto Spaziale' work – his signature series of layered monochromatic works with 'buchi' (holes) and 'taglio' (cuts), whereby the incisions revealed a dark ground within. By creating slashes in the surface medium, Fontana created an endless void and played with the idea of the third-dimensionality of the work's surface.
His first major intentional retrospective was held at the Solomon R. Guggenheim Museum, New York, in 1977.