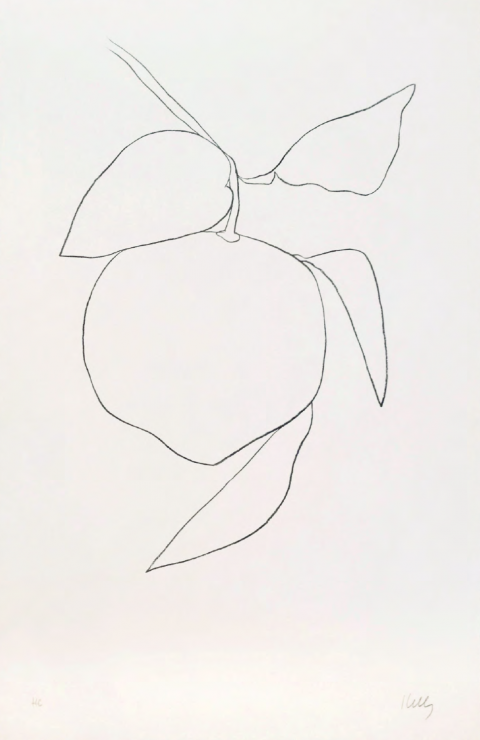 Ellsworth Kelly (May 31, 1923 – December 27, 2015) was an American painter, sculptor, and printmaker associated with hard-edge painting, Color Field painting and minimalism, rejecting the gestural brushstrokes of Abstract Expressionism with his pared-down paintings and prints. His works demonstrate unassuming techniques emphasizing line, colour and form, similar to the work of John McLaughlin and Kenneth Noland and establishing himself alongside Frank Stella and Al Held.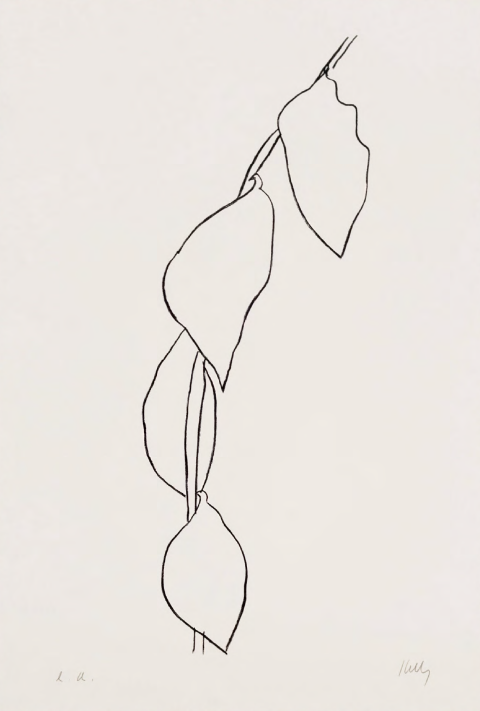 Ellsworth Kelly rendered drawings of plants and flowers from the late 1940s on. Beginning in 1949, while living in Paris (and influenced in this choice of subject by Henri Matisse and Jean Arp) he began to draw simple plant and seaweed forms. The plant studies are, for the most part, contour drawings of leaves, stems and flowers done in clean strokes of pencil or pen and centered on the page.
Kelly took up printmaking in a concerted fashion in the mid-1960s, when he produced his Suite of Twenty-Seven Lithographs (1964–66) with Maeght Éditeur in Paris. It was then that he created his first group of plant lithographs. His initial series of 28 transfer lithographs, entitled Suite of Plant Lithographs, marked the beginning of a corpus that would grow to 72 prints and countless drawings of foliage.
Today Kelly's works are in many public collections including the Whitney Museum of American Art, Centre Pompidou, Paris, The Museo Nacional Centro de Arte Reina Sofía, Madrid, The Tate Modern, London and the San Francisco Museum of Modern Art.