Cecily Brown (British, b. 1969) is a leading Contemporary painter, whose work embraces both representational and abstract elements in sensual depictions of figures and nudes.
Brown was born in London, and attended the Slade School of Fine Art; she later studied printmaking and draftsmanship in addition to painting. She moved to New York in the early 1990s, quickly receiving critical acclaim for her painted works, which feature abstracted images of human forms, often engaging in sexual activity, in rich colours and animated brushstrokes.
Brown is a central figure to the resurgence of painting, revitalising the expressive potential of figuration and landscape. The artist has maintained a highly original, painterly style in her work, often hovering between figuration and abstraction – blurring the line between the two. Allusions to figures often dissolve into painterly marks.
Her works draw on the legacies of Lucian Freud, Willem de Kooning and many Abstract Expressionist artists, as well as Old Masters, but Brown injects her works with a fresh sense of energy.
"I often think of [the monotypes] not as studies for the paintings, but as studies while I'm working on paintings. You don't get as caught up in the material aspect because they're fast and you can't pile the paint on."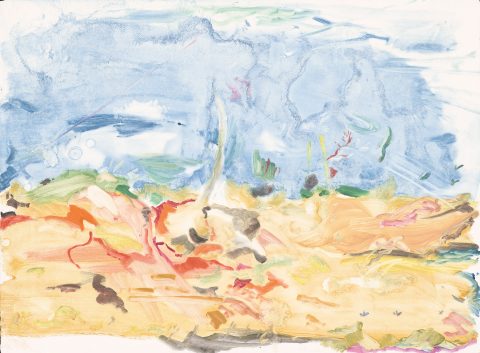 Of the mediums that Brown employs, she considers monotypes as closest to her paintings. When exploring a new subject in her paintings, she will often spend time creating monotypes first. Using oil paint on Plexiglas, Brown's unique monotypes have a fluid and spontaneous quality to them. They revisit compositions and motifs that have appeared in past paintings.
"In drawings I'm almost always copying from another source – it's a way of getting information. Whereas painting and monotypes are more like putting information out there that's already been digested."
Her work is in public collections including Solomon R. Guggenheim Museum, New York; Whitney Museum of American Art, New York; and Tate Gallery, London.
Solo exhibitions include Directions: Cecily Brown, Hirshhorn Museum and Sculpture Garden, Washington, D.C. (2002); MACRO, Rome (2003); Museo Nacional Centro de Arte Reina Sofía, Madrid (2004); Museum of Modern Art, Oxford (2005); Kunsthalle Mannheim (2005–06); Des Moines Art Center, Iowa (2006); Museum of Fine Arts, Boston (2006–07); Deichtorhallen, Hamburg (2009); Based on a True Story, Kestner Gesellschaft, Hannover (2010, traveled to GEM, Museum of Contemporary Art, The Hague); and Galleria Civica d'Arte Moderna e Contemporanea, Turin (2015).
Her paintings are currently exhibited at Blenheim Palace, Oxfordshire, UK until 7th February 2021.