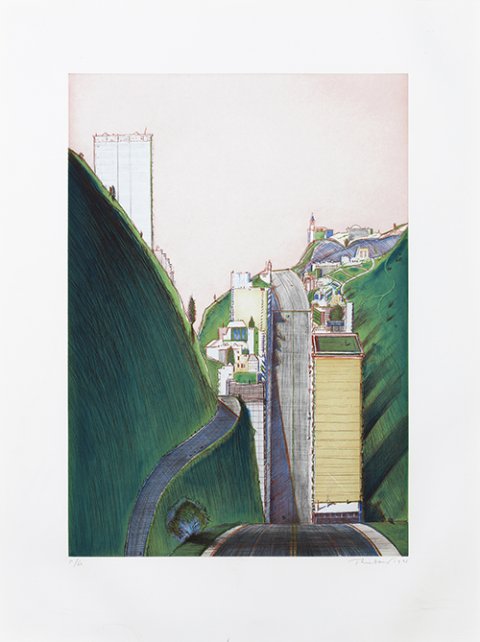 Wayne Thiebaud is an American artist best known for his deadpan graphic work depicting differing food products- cakes, desserts and sweets depicted as displayed in shop windows. Born in Arizona he moved to California where he continues to live today.
Often brightly hand coloured, his works are usually sited as drawing on Pop Art ideas since they update the traditional still life by including objects made for mass production, commercialisation and consumption inspired by popular culture in their flat, clean and simplified appearance. They are inviting and playful with an air of nostalgia for childhood and innocence. Printing and drawing are central to his oeuvre and he experimented with etching, drypoint, woodcut, lithograph and monotype techniques. His prints are integral to his creative process and often inspired his paintings and vice versa and he always exploited the qualities of the medium for differing expressive ends.
Thiebaud's 1964 'Delights' portfolio consists of 17 black and white etchings and some with aquatint or drypoint. The food products such as gumball machines and ice-cream cones are usually based on simple shapes such as spheres and triangles for their formal qualities. This delightful set includes works depicting an enticing slice of lemon meringue pie, a delicatessen shop front and candy apples, isolated against a plain background and with elements repeated with little variation, similar in aesthetic to advertisements.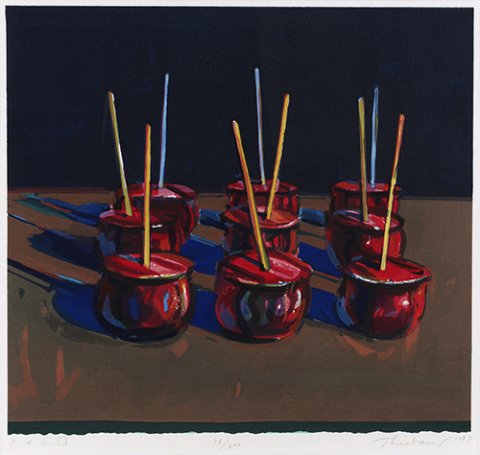 Similarly, Thiebaud's 1971 lithograph entitled 'Chocolate Cake' is equally tempting and appealing as a thick slice of the dark chocolate cake is placed in the foreground on a plate as if laid out for the spectator to reach for. The monochromatic print in brown further adds to the mouth-watering quality.