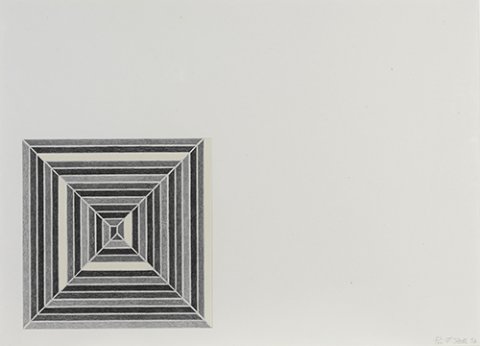 Frank Stella is a greatly renowned American abstract artist whose oeuvre encompasses paintings, relief, sculptures, drawings and prints. He studied at Princeton University where he first began painting and drawing, before moving to New York where he continues to live and work. His pieces can be seen as a reaction against Abstract Expressionism since the entire work is often filled with bright, geometric shapes and patterns. In the late 1950s and early 1960s, he created a striking series of works consisting of black and white stripes with an emphasis on rationality and order and these works created new paths for abstraction with great subsequent influence on the development of Minimalism. His works importantly had no meaning beyond their physical form with a focus instead on the basic elements of a work of art – colour, shape and composition, as Stella famously said:
"What you see is what you see."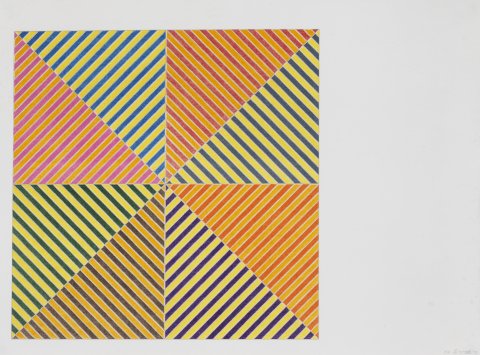 Stella's printmaking developed alongside his painting, exploring similar themes and developments into geometric abstraction. From the late 1960s his works saw a great shift to a colour-oriented pictorial language and works became brighter and larger. Stella also introduced curves into his work as in the print 'Sinjerli Variation IV' (1977), where brightly articulated curved geometric elements slot together to form a perfect sphere and decorative pattern.
'Sidi Ifni' (1973-4) is another striking work, emblematic of Stella's characteristic style. It consists of a large rectangle composed of eight smaller triangles which are each filled with stripes of yellow alternating with bright hues such as blue, green or pink. The stripes of yellow do not always align perfectly with each other, causing the eye to shudder at the marked juxtapositions. Furthermore the plain stripes without tone or shade accentuate the flatness of the work and add to the decorative quality.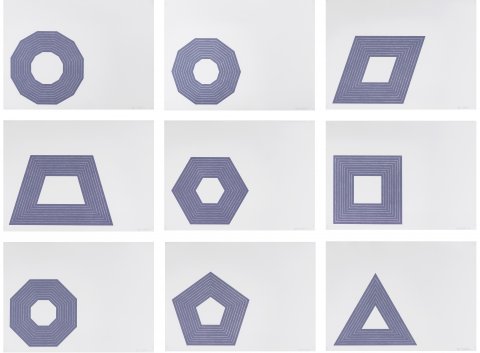 Since his first solo exhibition in 1960 at the Leo Castelli Gallery, Frank Stella has exhibited widely worldwide with his most recent retrospective exhibition held at the Whitney Museum of American Art from 2015-16. Aged 34, in 1970 Stella was the youngest artist to receive a full retrospective exhibition at the Museum of Modern art, New York, and a second show again in 1987.