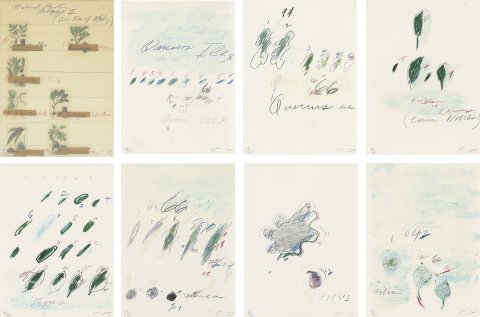 Cy Twombly was an American painter, printmaker and sculpture. Born in Virginia he studied at he studied at the School of the Museum of Fine Arts, Boston and the Art Students League, New York. When in New York, he socialised within artistic circles with Robert Rauschenberg, Jasper Johns and Paul Klee.
During the mid 1950's Twombly's works became more graphic in style and he produced a prolific number of prints and works on paper. These often explored the relationship between the visible and the hidden, natural forms and patterning. He was also inspired by classical landscapes and literature from his trips to Rome, Greek and Roman mythology and contemporary graffiti on ancient local walls.
His large print entitled 'On the Bowery' (1969-71) consists of looping gestural marks, alluding to crude scribbles or childlike graffiti, which subsume the canvas with a frenetic energy. The muted palette of blue and grey accentuates this emotional quality.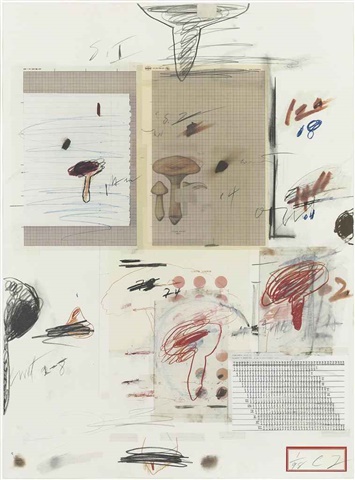 His recognisable lithograph 'Natural History Part I, Mushroom: No. VII' (1974) is part of one of two portfolios (the other Natural History Part II). This work gathers together an eclectic combination of collage, pieces of graphing and photographic elements in an almost quasi-scientific mode of presentation yet also includes his expressive graphic drawn elements.
Major retrospectives of Twombly's work have been held at the Whitney Museum and the Museum of Modern Art in New York, Tate Modern in London and the Art Institute of Chicago. In 2010, he was made a Chevalier of the Légion d'honneur by the French government.